Top-of-the-Line Concrete Driveway Sealer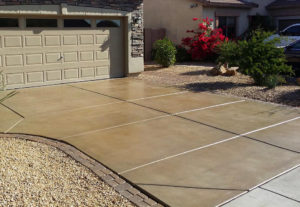 Being front and center, your driveway plays a key role in the curb appeal of your home. Unfortunately, when maintenance is neglected, it becomes apparent all too quickly. Dingy concrete, cracks, and stains can all take away from the visual appeal of your home. You might think your only option is an endless cycle of scrubbing and resealing. But think again. GatorGuard offers premium concrete driveway sealer that provides long-lasting protection so you can permanently check one of your most tedious chores off your to-do list.
Protect & Enhance
Our concrete driveway sealer isn't like the products that you'll find at a big-box store. Indeed, our coatings are industrial grade and applied using molecular bonding to ensure industry-leading durability. The sealer we use is UV stable and resistant to chemical abrasion, salt, and weathering. It can also handle heavy traffic year after year without cracking, peeling, or otherwise deteriorating.
More than just durable, our concrete driveway sealer is designed to improve the look of your driveway. You'll notice enhanced color, and that desirable "wet look". And we always apply our antiskid media to industry standards at minimum, to create a safe walking surface.
Service You Can Count On
Using top-quality concrete driveway sealer is a natural part of our commitment to providing homeowners with the best value and experience the industry has to offer. You can count on us to thoroughly explain your options and help you make the right decision for your home and budget. What's more, your concrete driveway sealer will be applied by our own team of manufacturer-trained installers—not subcontractors—so you can rest easy knowing your project is in the hands of experts.
Schedule a consultation with GatorGuard today to learn more about the premium concrete driveway sealer we use to protect and enhance our customers' driveways.