Concrete Floor Sealer for Patios, Driveways & More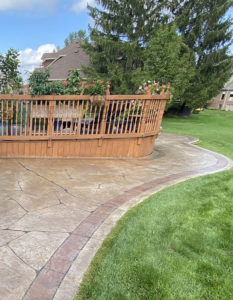 Does an exterior space at your home, such as the porch or pool deck, feature exposed aggregate, stained/untreated concrete, or pavers? Constant exposure to the elements means these spaces will quickly become worn, dingy, and damaged. You take pride in the appearance of your home, so you probably find yourself locked in an endless cycle of scrubbing and resealing. At GatorGuard, we can help you say "goodbye forever" to such tedious maintenance. Indeed, our concrete floor sealer is specifically formulated to protect outdoor concrete for decades.
Enhance. Beautify. Protect.
Concrete floor sealer from GatorGuard is the simple solution for protecting outdoor concrete from the elements. It's perfect for concrete:
Patios
Porches
Walkways
Driveways
Pool decks
And more
Once applied, your concrete floors will be impermeable to moisture, helping to prevent everything from weathering and staining to cracking and chipping. This industrial-grade coating will even resist damage from chemicals and abrasion from salt. Plus, because we include a moisture mitigation barrier—the exclusive GatorShield system—you won't have to worry about hydrostatic pressure prematurely damaging the coating system.
What's more, our concrete floor sealer helps bring out the natural beauty of your outdoor space by making colors look more vivid. And perhaps best of all, your outdoor spaces will no longer need tedious maintenance. It will be easier than ever to keep your outdoor spaces looking clean and beautiful!
Learn More
GatorGuard is proud to be the family-owned concrete coating contractor that homeowners trust to provide the best products, first-class service, and seamless installations. For more information about our concrete floor sealer, contact us today.