Epoxy Floor Coating Contractor Transforming the Floors of Columbus, OH, Homes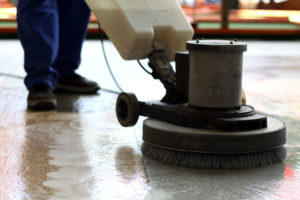 Are you in search of an epoxy floor coating contractor you can trust with your flooring project? If so, look no further than the professionals at GatorGuard. Our family-owned and -operated team is proud to serve homeowners in Columbus, Ohio.
At GatorGuard, we are committed to excellence—which is why all our technicians are manufacturer-trained installers. When you partner with us, you can rest assured you will have knowledgeable experts installing high-quality floor coatings on the concrete inside and outside your home.
Our Epoxy Floor Paint Offerings
No matter whether you need a floor coating on the concrete floors inside or outside your home, GatorGuard is the epoxy flooring contractor with a solution. All our flooring solutions are built to last, and they will protect your floors for years to come. Additionally, they are all installed with GatorShield—a moisture mitigation barrier that protects your concrete floors against the harsh effects of hydrostatic pressure. We offer three main floor coatings for your concrete floors:
Full-Broadcast Epoxy Floor Coating
Our full-broadcast epoxy coating will defend your concrete floors against chips, cracks, stains, and more. It is a fantastic option for garages, basements, and other indoor areas of your home that experience regular, heavy foot traffic. You can choose from our wide selection of colors, so your floor coating will perfectly suit your space.
Liquid Art Metallic Epoxy Floor Coating
Our Liquid Art metallic coating is a fantastic choice for homeowners who want a floor coating with flare. This coating will not only keep your floors safe from regular wear and tear, but it will also enhance the beauty of your concrete. This coating is an ideal choice for indoor spaces, such as basements, laundry rooms, and entertainment areas. It features vivid colors and swirling patterns.
Concrete Sealing
If you're looking for a floor coating for your driveway, pool deck, patio, walkway, or other outdoor area, then our concrete sealing is the way to go. Our sealing product will keep your concrete floors safe from weathering and commonly used outdoor chemicals.
GatorGuard is the Floor Sealer Contractor You Can Count On
Are you ready to take the next step and transform the concrete floors inside and outside your Columbus, OH, home? If so, GatorGuard is the epoxy floor coating contractor you should call. Contact us today to learn more about our products and services. We even offer a convenient Move Out, Move In Program to help make the floor coating process as easy as possible for you.
Contact GatorGuard today to learn more about the options we offer. You'll soon see what makes us the go-to epoxy floor coating contractor in Columbus, OH.
Contact Us
Office Information
3999 Parkway Ln #12, Hilliard, OH 43026
614-379-6361
Hours
Monday – Friday: 8:00 am – 6:00 pm
Saturday: 9:00 am – 12:00 pm
Sunday: Closed
Columbus Customer Reviews