A Trusted Floor Coating Contractor Serving St. Louis, MO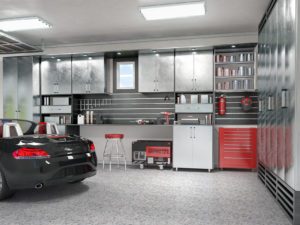 Bare concrete floors may seem practical until you realize that they can wear, stain, and crack easily. Fortunately, GatorGuard's epoxy floor coatings can protect your concrete floors and create a durable, beautiful surface. As the most trusted floor coating contractor in the region, we are thrilled to serve St. Louis, Missouri, homeowners.
Our Epoxy Floor Coatings
We offer a variety of premium floor coating options to best suit your needs and preferences. Our coating solutions include:
Concrete Sealing
Our clear liquid concrete sealer is the perfect choice for exterior concrete spaces like patios, driveways, and pool decks. It offers excellent resistance to UV rays, chemical abrasion, and weathering, and is easy to clean.
Liquid Art Metallic Floor Coatings
This epoxy floor coating features a one-of-a-kind swirled metallic pattern with a smooth, high-gloss finish. It's available in a variety of neutral tones as well as bold, vibrant colors. Liquid Art metallic epoxy floor coating should not be parked on, but it's a beautiful choice for basements, laundry rooms, rec rooms, entryways, and kitchens.
Full Broadcast Floor Coatings
These are our most durable floor coatings that are guaranteed to last a lifetime. We offer both PVA and mica systems in a huge array of colors, textures, and styles. This type of heavy-duty coating can be used in garages or other high-traffic areas.
Why Choose GatorGuard?
At GatorGuard, we set ourselves apart from other floor coating contractors by offering the highest-quality epoxy flooring products, the most comprehensive warranties, and the best installation and customer service. But we don't stop there—all our epoxy floor coatings are installed with our GatorShield moisture mitigation barrier to help prevent delamination, which can occur from hydrostatic pressure. We also offer a Move Out, Move In service, during which we will handle the removal, storage, and replacement of all your furniture and belongings, so you don't have to lift a finger.
Contact GatorGuard today to learn more about our epoxy floor coating options and to schedule a consultation at your St. Louis, MO, home.
Contact Us
Office Information
Address:
GatorGuard of St. Louis
9625 Dielman Rock Island Industrial Drive
St. Louis, MO 63132
Phone Number:
314-860-6850
Hours
Monday – Friday: 8:00 am – 6:00 pm
Saturday: 9:00 am – 12:00 pm
Sunday: Closed
St. Louis Customer Reviews