Top-Tier Epoxy Floor Coatings Ideal for Garages, Basements & More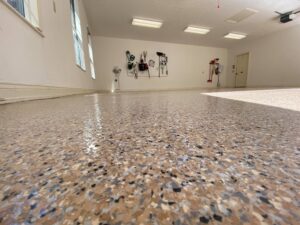 Garages, basements, and other interior spaces with bare concrete floors are rarely the most attractive rooms in the home. Not only is concrete hardly appealing, but it also accumulates scuffs, stains, chips, and cracks. At GatorGuard, we equip floors with epoxy coatings that are guaranteed to provide a lifetime of beauty and protection. Our full broadcast coatings represent the best the industry has to offer and provide unrivaled:
Durability
Whether for a garage that experiences daily vehicle traffic or a basement where children play rough, our full broadcast epoxy floor coatings will stand strong. Indeed, these coatings will defend not only against chips, cracks, and abrasions but also staining, fading, and deterioration due to exposure to salt and ice-melting chemicals. It's the only coating you'll need to have installed for as long as you own your home—a claim we back with a limited lifetime warranty.
Safety & Ease of Maintenance
Coating your floor with our epoxy product will create an impermeable membrane that is easy to keep looking its best. What's more, thanks to a highly reflective, non-slip surface, our coatings improve safety in any room where they're installed by preventing falls and reflecting light to provide better illumination.
Beauty
With our epoxy floor coatings, performance doesn't come at the expense of visual appeal. In fact, you'll have a wide variety of design combinations to choose from. Our concrete coatings are available in a broad array of colors and styles, including options with natural earth and stone effects.
Protect & Beautify Your Floors With GatorGuard
In even the harshest conditions, GatorGuard's full broadcast epoxy floor coatings can be counted on to last without regular maintenance. As trusted specialists, we even install GatorShield—a moisture mitigation barrier—to stop hydrostatic pressure from causing delamination and peeling.
For more information about why epoxy coatings from GatorGuard are the best solution for interior concrete floors, contact us today.