The Epoxy Floor Coating Contractor Trusted Most by Homeowners in Cincinnati, OH & Beyond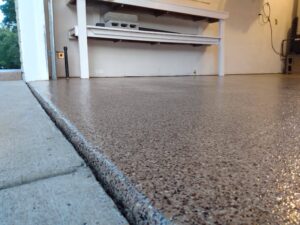 Whether you are looking to refurbish the floors in a tired-looking space in your home or you simply need a way to protect an outdoor surface from the elements, concrete floor coating is often the best solution. At GatorGuard, we have earned a reputation as the Cincinnati, Ohio, area's best epoxy floor coating contractor by consistently providing the best value and service available. Homeowners routinely turn to us for beautiful and long-lasting coating applications in their:
Options to Suit Your Needs & Budget
At GatorGuard, we don't believe in one-size-fits-all solutions. We offer a wide array of epoxy floor coating products, and our experts will take the time to educate you about your options so that you can make an informed decision.
Looking for a premium epoxy floor coating that's backed by an incredible limited lifetime warranty? Our full-broadcast coatings might be best for you. These coatings are the perfect blend of beauty and functionality. Offering unmatched resistance to wear that makes it the ideal garage floor coating, our full-broadcast systems are available in myriad style and color options to dramatically enhance the look of any space.
If beauty is a top priority, our Liquid Art metallic floor coating is a great solution. Though not ideal for garages, it's high-gloss metallic finish can transform an otherwise bland room into a work of art. And if you're simply looking for a way to protect your outdoor surfaces and reduce maintenance, our concrete sealing option is the perfect choice.
Installed the Right Way
Choosing the right floor coating isn't enough. To achieve the results you desire, you need an epoxy floor coating contractor that will perform a precise installation to the highest standards. That's exactly what you can expect when you partner with GatorGuard. Our in-house installers are manufacturer trained and follow best practices throughout each project to ensure a beautiful, long-lasting finish that you'll absolutely love.
Contact GatorGuard today to learn more about the options we offer. You'll soon see what makes us the go-to epoxy floor coating contractor in Cincinnati, OH.
Contact Us
Office Information
486 Northland Blvd
Forest Park, OH 45240
513-790-4228
Hours
Monday – Friday: 8:00 am – 6:00 pm
Saturday: 9:00 am – 12:00 pm
Sunday: Closed
Cincinnati Customer Reviews