Transform a Room With a Liquid Art Metallic Epoxy Floor Coating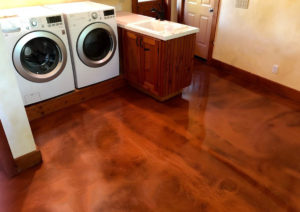 What's the best flooring solution for an interior room with concrete, such as a basement, laundry room, or recreation area? Carpeting is easily soiled and requires endless cleaning. Wood floors might be more attractive, but they can also be easily dinged and scratched. What if there were a flooring option that was not only easy to maintain and provided complete protection for concrete floors but also transformed your room into a unique work of art? That's exactly what you can expect from GatorGuard's Liquid Art metallic epoxy floor coating.
The Perfect Blend of Beauty & Performance
There's a reason that our Liquid Art metallic epoxy floor coatings have earned that name. Featuring vibrant colors with eye-catching flowing patterns and a high-gloss finish, this coating system achieves a striking glass-like effect that you won't find with any other flooring on the market. Looking to liven up your space with a bold metallic effect? Choose a vivid color, such as crimson, bronze, or sapphire. Want something more subtle? Choose a more muted tone, such as gray, denim, or charcoal. No matter what you choose, your flooring is sure to be a design centerpiece.
Of course, our Liquid Art metallic epoxy floor coatings provide much more than just dramatic visual appeal. Your newly coated floor will:
Resist cracking, scuffing, and staining, even after years in a heavily used room
Be a breeze to keep clean
Provide an impermeable barrier against moisture
Help make spaces safer by providing a non-slip surface and better illumination
Get Started on Your Floor Coating Project
When you trust GatorGuard to install your Liquid Art metallic epoxy floor coating, you can rest easy knowing the project is in the most capable of hands. Our team of full-time, manufacturer-trained experts utilizes a multi-day installation process that provides superior results. And, by including GatorShield, a water mitigation barrier, we ensure your floors are protected from delamination and peeling due to hydrostatic pressure.
To learn more about the Liquid Art epoxy metallic floor coatings we install, contact GatorGuard today.