Garage Floor Coatings Designed to Provide Lasting Performance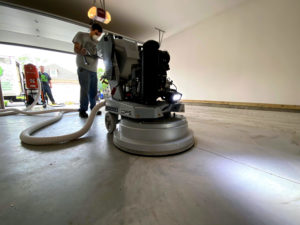 The garage is the unsung hero of the home. Not only does it provide a space to protect your vehicles from the elements, but it also serves as a catchall for storage and a space to pursue hobbies, such as woodworking, that aren't suitable for other rooms of your home. With all the heavy lifting that your garage does, it's inevitable that the concrete floor has become cracked, stained, and battered. You wish you could make the space look better without spending countless hours on cleaning and repairs. But how? GatorGuard has the solution. Our premium garage floor coatings are designed to provide:
Exceptional Durability
GatorGuard offers top-of-the-line, full-broadcast garage floor coatings that are backed by an unbeatable limited lifetime warranty. Your coating will provide the ultimate protection against everything from UV exposure and wear from vehicle traffic to abrasion from chemicals and impacts. What's more, GatorGuard goes the extra mile to always include GatorShield, our moisture mitigation layer which will prevent hydrostatic pressure from causing delamination and peeling.
Improved Visual Appeal
Our epoxy garage floor coatings provide an immediate aesthetic boost by repairing cracks, chips, stains, and other imperfections. However, we also provide options to truly elevate the look of the space. Indeed, our garage floor coatings are available in many different styles, including options that incorporate PVA chips or natural reflective mica minerals, a GatorGuard exclusive option.
Enhanced Safety & Ease of Maintenance
Our garage floor coatings make spaces safer by creating non-slip surfaces, and they also reflect light to better illuminate the room. Plus, because our coatings are easy to clean and maintain, there will be no more backbreaking cleaning and repairs required.
Peace of Mind About Your Investment
If you ever experience a problem with your garage floor coating, you won't have to deal with a manufacturer or chase down a contractor who's too busy to call you back. GatorGuard will be there to address the issue, with undivided responsibility, and a team of staff at the ready.
Coat Your Garage Floor Today
At GatorGuard, we're committed to providing floor coatings that our customers love and ensuring the installation experience is as seamless as possible. Our in-house, manufacturer-trained installers adhere to the highest standards when applying our epoxy garage floor coatings to ensure results that last a lifetime. And we also solve the problem of what to do with your belongings and contents while your floor is being rejuvenated by offering our Move Out, Move In Service to maximize convenience. If you opt for this service, we'll carefully remove and store all of the contents of your garage and return them once the project is finished.
Contact GatorGuard today to learn more about why we're the best choice for your garage floor coating project.