The Detroit, MI, Area's Leading Epoxy Floor Coating Contractor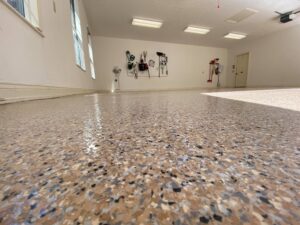 Whether in garages, basements, laundry rooms, or outdoor spaces, concrete flooring can be a hassle. Not only can it easily weather and wear, but it also quickly accumulates grime and stains that can turn otherwise beautiful spaces into an eyesore. At GatorGuard, we are the Detroit, Michigan, area's trusted epoxy floor coating contractor, offering solutions that are designed to beautify and fortify concrete floors for a lifetime. Our solutions include:
Full-Broadcast Floor Coatings
Backed by an industry-leading limited lifetime warranty, our full-broadcast coatings are incredibly durable, making them ideal for spaces that see heavy traffic, such as garages. What's more, this premium quality and longevity doesn't come at the expense of beauty. In fact, you'll get to choose from a vast selection of styles and colors to create floors that are uniquely your own.
Liquid Art Metallic Floor Coatings
There's a reason our metallic coatings are known as Liquid Art—their high-gloss metallic finish can transform interior spaces into stunning design showpieces that you'll be proud to invite guests into. Thanks to superior resistance to staining and abrasion, you can count on your Liquid Art metallic floor coating to look great for a lifetime with minimal care required.
Concrete Sealing
Ideal for outdoor concrete surfaces, such as pool decks, patios, and driveways, our sealing product offers exceptional resistance to everything from UV rays to chemical abrasion.
Service You Can Count On
At GatorGuard, we understand that proper installation is just as important as providing top-quality floor coatings. Our manufacturer-trained, full-time installers ensure that each layer is applied with precision and has enough time to cure to provide the most durable surface possible. Additionally, unlike other epoxy floor coating contractors, we always include a moisture mitigation barrier to ensure our coatings stand up to hydrostatic pressure, the main reason why floor coatings fail prematurely.
Get Started on Your Project
For the best results, entrust your project to Detroit's leading epoxy floor coating contractor: GatorGuard. Contact us today to schedule your consultation. And remember to ask about our Move Out, Move In Program—an exclusive service that makes the floor coating process as easy as possible.
Contact Us
Office Information
12900 Farmington Road
Livonia, MI 48150
248-923-4373
Hours
Monday – Friday: 8:00 am – 6:00 pm
Saturday: 9:00 am – 12:00 pm
Sunday: Closed