A Trusted Epoxy Floor Coating Contractor Serving the Louisville, KY, Area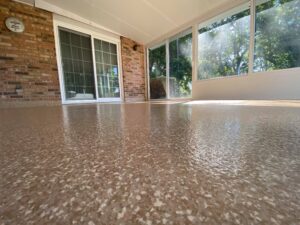 Take a look beneath your feet. Do you have lackluster floors in a key space in your home, such as the garage, basement, or patio? Are they marred by scuffs and stains? As the premier epoxy floor coating contractor in Louisville, Kentucky, GatorGuard is here to help. We offer premium floor coatings for every space of the home and have built a reputation for providing value-driven and long-lasting solutions designed to protect your concrete, as well as your investment.
What Sets GatorGuard Apart?
As a family-owned company, GatorGuard prioritizes quality and customer satisfaction above all else. Compared with other epoxy floor coating contractors in the Louisville area, we offer superior:
Products
GatorGuard offers a huge selection of options, making it easy for our customers to find the perfect epoxy floor coating for their unique application, budget, and preferences. For example, full broadcast floor coatings—our most recommended option—offer industry-leading durability, making them perfect for high-traffic spaces, such as garages. Backed by a lifetime warranty, these systems are available in an enormous variety of aesthetic options, including coatings that create a beautiful, natural stone effect.
Looking for a floor coating that's sure to impress? Our Liquid Art metallic systems can transform spaces like basements and laundry rooms into works of art. We even offer concrete sealing specifically for outdoor areas, such as driveways and patios.
Installations
Proper installation is just as important as choosing the right floor coating. At GatorGuard, we have full-time, manufacturer-trained installers who take a detail-oriented approach. And, unlike other epoxy floor coating contractors, we don't offer one-day installations, as they simply cure too fast for proper mechanical adhesion to your concrete. Rather, we take the time to complete the project correctly the first time. Additionally, we provide GatorShield, our moisture mitigation barrier with each project to protect against the leading cause of floor deterioration: hydrostatic pressure.
Service
GatorGuard is committed to providing customer-centric service. You can expect us to show up on time, listen to your needs, and always do exactly what we say we will. We're also the only floor coating company in the area to offer a White Glove Service. With this service, we'll move all of the contents out of a room we're coating and then put them back just as they were when the project is complete, all the while keeping them stored securely on site.
Learn More
It's easy to see what makes GatorGuard the Louisville, KY, area's best epoxy floor coating contractor. To learn more about what we have to offer, contact us today to schedule your consultation.
Contact Us
Office Information
201 Faro Ct, Ste 5
Shepherdsville, KY 40165
502-206-0503
Hours
Monday – Friday: 8:00 am – 6:00 pm
Saturday: 9:00 am – 12:00 pm
Sunday: Closed
Louisville Customer Reviews