Premium Pool Deck Coatings That Provide Year After Year of Protection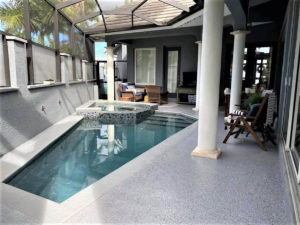 When summer comes and the outdoor fun begins, your pool becomes a hub of activity—a space for your family, friends, and neighbors to gather and enjoy a respite from the heat. However, with all that entertainment comes some tedious chores. Scrubbing and sealing your concrete pool deck can truly be a hassle, eating away at hours of your free time. But what if you could do it once and have a solution that will last many years, instead of every season? That's exactly what you'll receive when you turn to GatorGuard for pool deck coating.
GatorGuard Is the Clear Choice
As you've surely noticed, DIY pool deck coating kits offer short-lived protection, as they quickly weather and stain. At GatorGuard, we install industrial-grade pool deck sealer that is designed to endure years of exposure to the elements. Indeed, our nonporous and impermeable pool deck coatings offer unrivaled durability and resist staining, chemical abrasion, and heavy foot traffic without losing their luster.
Helping you avoid the hassle of maintaining your pool deck is only one of the advantages of our coating service. Our coating is also designed to enhance the look of your deck. Our epoxy pool deck concrete sealer makes the natural colors more vibrant and provides the "wet look" for many years. What's more, we always install, at minimum, industry standard anti-skid media to ensure the surface isn't super slippery like most painted or coated surfaces.
Installed With Precision & Care
GatorGuard has our own team of manufacturer-trained installers, ensuring each pool deck coating project is completed to the highest standards. We also take care to protect your landscaping and surrounding areas while we're at it.
Learn more about why GatorGuard is the right choice for your concrete pool deck coating project. Contact us today to schedule a consultation.