Trusted Basement Floor Coating Contractors Serving Homeowners in Cincinnati, OH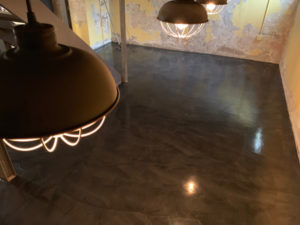 Epoxy floor coating is often the perfect flooring option for Cincinnati, Ohio, homeowners who are refinishing or remodeling their basements. Compared to alternatives, concrete coating offers a variety of advantages. For example, it is highly durable, resisting damage from everything from impacts to abrasion from salt and ice-melting chemicals. It is also incredibly low-maintenance—unlike other flooring options such as carpet, it won't stain or scuff and is easy to clean. Basement floor coatings can even help improve safety by providing a slip-resistant finish and reflecting light to better illuminate otherwise dim spaces.
Get the Best Value on Basement Floor Coating
Although epoxy floor coating can be a great choice for basements, it's important to keep in mind that the quality of products used varies widely, as does the workmanship of the companies that install them. At GatorGuard, we offer only top-of-the-line concrete coatings that are designed to provide a lifetime of performance. For example, our full broadcast basement floor coating is a customer favorite, as it is backed by a lifetime warranty and available in a wide variety of designs.
Are you looking to make your basement remodel truly shine? We also offer Liquid Art metallic basement floor coatings with a stunning high-gloss finish and swirling patterns to transform your basement into a design centerpiece.
You will also receive the same level of quality from our installations. You can expect:
A team of manufacturer-trained installers to handle every aspect of your project
Proper installation with a multi-day process that allows each epoxy layer to mechanically bond to concrete
The inclusion of GatorShield—a water mitigation barrier that prevents premature deterioration due to hydrostatic pressure
An optional upgrade to our Move Out, Move In Program that involves our team removing the contents of your basement and returning them when the project is complete
Schedule Your Consultation
Learn more about what basement floor coating from GatorGuard can do to protect your concrete floors and beautify your basement. Contact us today to schedule a free consultation at your home in Cincinnati, OH.