Stunning Concrete Patio Sealing for Homes in Cincinnati, OH, and Surrounding Communities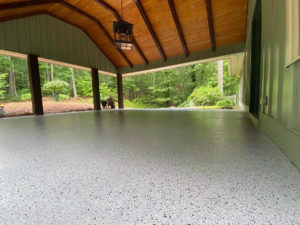 If you walk outside and look at your home's outdoor patio, will you be greeted by a clean, beautiful floor, or a floor full of dings and cracks? The concrete floors used for most residential patios are not immune to damage caused by constant exposure to the elements and foot traffic. But with a concrete patio sealing from GatorGuard, your floors can be better protected and look good as new.
We install high-quality floor coatings on outdoor concrete floors for homes throughout Cincinnati, Ohio. Our technicians are professionally trained and ready to provide top-notch services. So, what are the advantages of our concrete patio sealings?
What Patio Floor Coating Can Offer Your Home
If you find yourself spending hours scrubbing your patio floors clean only for them to look dirty again the next day, GatorGuard can help. When you partner with us for a concrete patio sealing installation, your patio floors will look stunning year-round—and you won't even have to spend your free time cleaning them.
Our concrete patio sealing is:
Industrial grade
Molecularly bonded
UV stable
Chemically resistant
Calcium-chloride resistant
Eco-friendly
Low maintenance
Additionally, our concrete patio sealer is stain, crack, and scratch resistant, so you no longer have to worry about your floors getting damaged by harsh weather or regular use. All our floor coatings are also installed with a water mitigation barrier named GatorShield, which helps protect your concrete floors against the effects of hydrostatic pressure.
Let's Get Started
With a concrete patio sealing installed by GatorGuard, your patio will have a shiny, new floor for many years to come. We can even install our concrete floor sealer on other areas outside your Cincinnati, OH, home, such as porches, walkways, driveways, and pool decks.
Contact GatorGuard today to learn more.