A Beautiful & Long-Lasting Basement Floor Coating for Your Home in Columbus, OH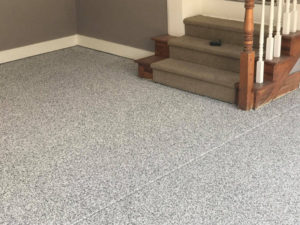 A basement can be transformed in a number of ways. You can use it as a storage space, an at-home gym, an entertainment area, and more. But you can't just leave your floors as bare concrete. At GatorGuard, we can upgrade the floors in your Columbus, Ohio, home with a basement floor coating. We have two different epoxy floor paints that are guaranteed to protect and beautify your concrete floors for years to come: full-broadcast epoxy floor coating and Liquid Art metallic epoxy floor coating.
Our Basement Epoxy Floor Coatings
Concrete is not the most visually appealing material, which is why we offer basement floor coatings that will not only add a layer of visual appeal to your floors but will also help defend them against damage. All our floor coatings are resistant to scratching, staining, cracking, and chipping, and are installed with GatorShield—a moisture mitigation barrier that will defend your basement floors against the harsh effects of hydrostatic pressure.
Full-Broadcast Epoxy Floor Coating
If your basement experiences regular foot traffic, or if it houses heavy boxes and equipment, then our full-broadcast basement floor coating may be the perfect fit for your floors. This coating will defend your floors against wear and tear, including fading and deterioration caused by exposure to salt and chemicals. It's also very durable, easy to clean, and non-slip.
Liquid Art Metallic Epoxy Floor Coating
On the other hand, if you choose to convert your basement into an area with limited foot traffic, such as a laundry room, then our stunning Liquid Art basement floor coating may be ideal. This coating is unique in its appearance, as it has one-of-a-kind swirling patterns and comes in a range of vivid colors. Plus, it's low maintenance and will illuminate your basement.
Learn More
If you're ready to take the plunge and invest in a basement floor coating for your Columbus, OH, home, call GatorGuard today. Our team will be more than happy to discuss our products and services with you.