Concrete Driveway Sealing Services for Homeowners in and Around Columbus, OH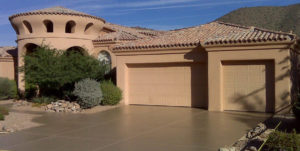 Is your concrete driveway looking stained and run down? Regular vehicle traffic can do that, but there is a solution. At GatorGuard, we install concrete driveway sealing at homes throughout Columbus, Ohio, to help combat unattractive concrete floors. Our driveway sealer is an extremely durable and long-lasting outdoor floor coating that will protect and beautify your driveway. Our technicians are thoroughly trained and knowledgeable about our concrete sealing installation process, so you can rest assured you are receiving a high-quality product installed by experts.
What Makes Our Concrete Driveway Sealing Different?
Whether your floors are made of concrete, pavers, or exposed aggregate, the team at GatorGuard can install a waterproof floor coating on your driveway. This jack-of-all-trades floor sealing will enhance the color of your driveway floors, and it is also:
Calcium chloride resistant
Chemical resistant
Easy to clean
Eco friendly
Molecularly bonded
Stain, crack, and chip resistant
UV stable
Not to mention we install all of our floor coatings with GatorShield—a moisture mitigation barrier that helps protect your floors against the negative effects of hydrostatic pressure. Overall, this coating will do a great job of keeping your floors clean, beautiful, and free of damage. And did we mention our concrete driveway sealing will keep your floors safe from the elements? You will no longer have to worry about rain, snow, hail, or any other weather conditions damaging your driveway.
Partner with GatorGuard Today
To learn more about the products and services we offer at GatorGuard, contact us today. We look forward to hearing from you and completing a concrete driveway sealing service at your Columbus, OH, home.