Concrete Patio Sealing Installed by Experts Throughout Columbus, OH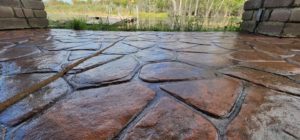 Are you tired of spending hours scrubbing your concrete patio floors, just for them to look dirty again the next day? With a concrete patio sealing from GatorGuard, that can be a thing of the past. Not only is our sealing low maintenance and easy to clean, but it also does a fantastic job protecting your floors from various harsh weather conditions and chemicals.
Porches and patios frequently experience heavy foot traffic, which can be a burden on bare concrete floors. But with our concrete patio sealer, you will no longer have to worry about friends and family damaging your flooring. Our sealing will make it resistant to scratching, cracking, chipping, and staining. Plus, it will look great, too!
Advantages Of Our Concrete Patio Floor Coating
Our premium concrete patio sealing is one of the best-performing floor coatings on the market. It is:
UV stable
Molecularly bonded
Chemically resistant
Calcium-chloride resistant
Low maintenance
Eco-friendly
Plus, we install our very own moisture mitigation barrier—GatorShield—along with all our coatings. This barrier will help keep your floors protected against the harsh effects of hydrostatic pressure.
Choose Us for Your Concrete Patio Sealing
GatorGuard has been proudly serving homeowners across the country for years, and we'd love to add you to our long list of happy customers. To get started with your own concrete patio sealing at your Columbus, OH, home, call GatorGuard today. And if you're looking to protect more than just the concrete floors outside your home, we also offer a full-broadcast epoxy floor coating and Liquid Art metallic epoxy floor coating for indoor projects.