Floor Coating Contractor Serving Homeowners in and Around Columbus, OH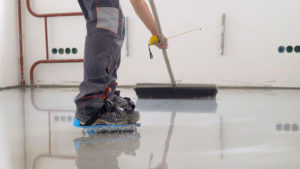 It can be difficult finding a reliable floor coating contractor to work on the concrete floors of your Columbus, Ohio, home—so let GatorGuard make it easy. We are the premier concrete floor coating company in the area, and we proudly install three high-quality floor coatings: full-broadcast epoxy coatings, Liquid Art metallic epoxy coatings, and concrete sealing. We are a family-owned and -operated business with an A+ rating from the Better Business Bureau, and we would love to upgrade the concrete floors inside or outside your residential property.
Coatings that Will Transform Your Concrete Floors
Whether you're looking for a floor coating that will protect your basement, garage, or patio, GatorGuard is the floor coating contractor with solutions. Our three epoxy floor paints that will keep your concrete floors safe from normal wear and tear, abrasion, staining, and discoloration include the following:
Full-broadcast epoxy floor coating – This is our strongest floor coating, and it is ideal for areas that experience regular foot and car traffic, such as basements and garages. It is backed by a limited lifetime warranty.
Liquid Art metallic epoxy floor coating – Our Liquid Art metallic coating is designed to be as beautiful as it is functional. It includes one-of-a-kind swirling patterns, vivid colors, and a high-gloss finish. This flooring is typically installed in laundry rooms, basements, and entertainment spaces.
Concrete sealing – GatorGuard's concrete sealing is ideal for outdoor spaces with concrete floors, including driveways, patios, porches, and more. It will protect your floors against weathering and commonly used outdoor chemicals.
What's more, all our floor coatings are installed with GatorShield—a moisture mitigation barrier that will protect your floors against peeling and delamination. Because we're your local floor coating contractor that wants to make sure your floors are safe from top to bottom.
Your Neighborhood Concrete Floor Coating Company
If you want a floor coating that will protect your Columbus, OH, home's concrete floors, then GatorGuard is the floor coating contractor you should turn to. Contact us today for more information.