Beautiful and Durable Residential Floor Coatings Installed by Professionals Throughout Columbus, OH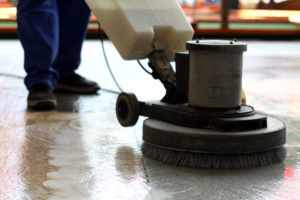 So, you're interested in a residential floor coating service, but you're worried about moving your furniture and other belongings before the installation process. That's a typical concern for many homeowners in Columbus, Ohio, and surrounding areas. But when you partner with GatorGuard, you won't have to worry about a thing.
Our Unique Move Out, Move In Program
We understand not everybody is physically capable or willing to transfer all of their belongings back and forth before and after a floor coating installation. That's why GatorGuard offers an exclusive service called the Move Out, Move In Program, where our experts will handle moving all of the contents in and out of your room before your residential floor coating service. We find this removes a huge weight off homeowners' shoulders, and we are always looking for ways to make our customers happy.
If you choose to add this service alongside your residential floor coating, we will:
Bring a moving truck to your home, where our experts will load all of your furniture, décor, and other belongings onto it
Store your belongings safely in our locked and secured trailer at your home for the duration of your flooring project
Unload all of your items at your home and return them to their previous locations once your flooring project is complete
Learn More About Your Local Residential Floor Coating Contractor
Are you interested in learning more about our stress-free Move Out, Move In Program for your next residential floor coating service? If so, reach out to the team at GatorGuard today. We'll be happy to answer any questions you may have.