Invest in a Pool Deck Coating for the Outdoor Area of Your Columbus, OH, Home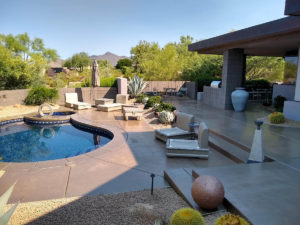 Your pool receives a lot of love during the summer months, so it's important that your concrete, paver, or exposed aggregate flooring stays in good shape. Pool decks are constantly exposed to the elements, so it's not uncommon to see chips, cracks, and stains on them. So, what do you do? That's where the experts at GatorGuard come in. We offer pool deck coating services to homeowners in the Columbus, Ohio, area who are looking for a long-lasting and durable solution to their outdoor floors.
GatorGuard is a family-owned and -operated pool deck coating company dedicated to providing high-quality products and top-notch services. Our trained team of experts works diligently to ensure all flooring projects are completed thoroughly and properly, and we'd love to help you better protect your pool deck.
Our Concrete Coating
What makes our concrete sealer so great for pool decks is the fact that it is waterproof. You'll never have to worry about water seeping into your floors and causing foundation issues. Our pool deck coating is also:
Calcium chloride resistant
Chemical resistant
Easy to clean
Eco friendly
Molecularly bonded
Stain, crack, and chip resistant
UV stable
Plus, we install GatorShield—a moisture mitigation barrier—along with all our floor coatings, so your floors will be well-protected against the negative effects of hydrostatic pressure.
Next Steps
Now that you know a bit more about the pool deck coating we install at GatorGuard, you may be ready to take the next step. If so, don't hesitate to call us today. We will gladly answer any questions you may have. We look forward to helping you protect the floors outside your Columbus, OH, home.