Experienced Basement Floor Coating Contractors Serving Detroit, MI, Homeowners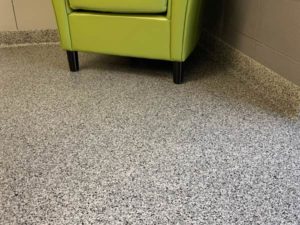 Are you planning a basement remodeling or refinishing project in your home in Detroit, Michigan? One of the most important steps will be covering up those ugly, cracked, stained concrete floors. At GatorGuard, we offer the best solution: epoxy concrete coating. For as long as you own your home, you'll be able to count on your basement floor coating to provide:
Protection
GatorGuard offers three distinct styles of basement floor coatings to suit your budget—all of which provide best-in-class durability. Indeed, your epoxy floor coating will resist everything from staining, chipping, and cracking to abrasion from ice-melting chemicals and salt tracked into your home during winter months.
Beauty
With so many design options to choose from, it will be easy to create a look that you love. For example, our full broadcast coatings feature beautiful designs, including options with natural stone effects, to enhance visual appeal. Backed by a lifetime warranty that protects against peeling, delamination, and other damage, our full-broadcast coating represents the best value available in the industry. And, if you want your floors to truly shine, our Liquid Art metallic coatings are the best choice. Featuring a high-gloss finish and flowing pattern, this basement floor coating will transform your space into a unique work of art.
Additional Benefits
There are a variety of additional advantages to choosing epoxy floor coating for your basement. For example, thanks to a non-slip finish, our floors can help prevent accidents. Plus, for dark basements with limited natural light, a basement floor coating can provide better illumination by reflecting light.
What's more, when you choose GatorGuard for your concrete coating system, you can rest assured it will be installed the right way by thoroughly trained, manufacturer-certified experts. By allowing the time for each layer to mechanically bond to concrete and including a moisture mitigation barrier, we ensure our floors feature incredible durability that will last a lifetime.
Contact Us
Reach out to GatorGuard today to schedule a free consultation at your home in Detroit, MI, and learn all about the benefits of our basement floor coatings.