Leaders Among Concrete Floor Coating Contractors in Detroit, MI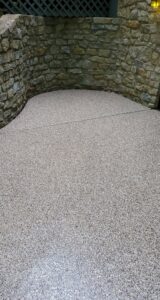 Keeping concrete flooring free of damage, wear, stains, and scuffs requires frequent, tedious maintenance and cleaning. However, it doesn't have to be that way. For homeowners in Detroit, Michigan, GatorGuard can provide top-of-the-line concrete floor coatings that provide the ultimate in long-lasting protection and significantly reduce maintenance requirements.
About Our Concrete Floor Coatings
Whether for a garage, basement, laundry room, or patio, GatorGuard offers epoxy floor coatings that will resist wear, abrasion, staining, and other common sources of damage and discoloration. Choose from:
Full broadcast coatings – Our strongest concrete floor coating is perfect for areas that experience heavy traffic, such as garages, and is backed by a limited lifetime warranty. This top-of-the-line coating system is also a great choice for interior spaces, such as basements.
Liquid Art metallic coatings – Also known as liquid art, our Liquid Art metallic concrete coating system has a high-gloss finish and can be used to transform any interior room with concrete flooring into a design showpiece.
Concrete sealing – Protect your concrete patio, driveway, or pool deck from weathering, chemical abrasion, and more with our top-tier exterior sealing solution.
Our floor coatings are designed to beautify as well as protect your concrete floors. Regardless of which option you choose, you'll have plenty of colors and styles to choose from.
Installed With Precision & Care
GatorGuard is a Detroit-based, family-owned and -operated concrete floor coating company with a reputation for putting the best interests of our customers first. To that end, we adhere to the most rigorous quality standards on ever project. Our full-time, manufacturer-trained installers allow each layer of coating to fully cure, resulting in the most durable surface possible. Additionally, because we install a moisture mitigation barrier—GatorShield—with each floor coating, we effectively protect our customers' investments by stopping hydrostatic pressure from causing premature wear.
For more information about what makes GatorGuard the Detroit, MI, area's best concrete floor coating contractors, contact us today.