Garage Floor Coatings Designed to Provide a Lifetime of Performance in Detroit, MI, Homes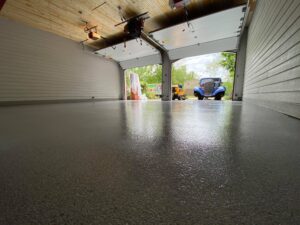 Are you tired of spending countless hours on cleaning and maintenance to keep your garage floor free from chips, stains, and scuffs? GatorGuard has a solution. From our location in Detroit, Michigan, we provide local homeowners with premium garage floor coatings that provide a lifetime of enhanced durability and visual appeal. Indeed, our full broadcast garage floor coatings are backed by a limited lifetime warranty that doesn't come with caveats. GatorGuard takes full responsibility for our warranty, so you'll never have to deal with a manufacturer.
Why Choose GatorGuard for Garage Floor Coating
GatorGuard has earned a reputation for providing a value on epoxy floor coating services that other contractors simply can't match. Our garage floor coatings:
Are extremely durable, resistant to abrasion, and UV stable
Feature a non-slip, reflective surface to make your garage safer
Resistant to staining and exceptionally easy to clean and maintain
Available in a wide array of attractive colors, styles, and patterns
Installing premium, full broadcast garage floor coatings is only one of the ways that GatorGuard stands out from our competitors. We also have a team of full-time, manufacturer-trained installers who adhere to our strict standards for quality workmanship and professionalism on every job. Unlike the one-day installations that other garage floor coating companies offer, our process allows for the mechanical bonding needed to create a long-lasting coating. Additionally, we include a moisture mitigation barrier with every project to prevent damage from hydrostatic pressure.
Schedule a Consultation
GatorGuard strives to make the garage floor coating process as easy as possible for our customers. One way we achieve this is through our optional Move Out, Move In Program, which involves carefully removing the contents of our customers' garages and returning them once the project is complete. To learn more, schedule a consultation at your Detroit, MI, home today.