High-Gloss Liquid Art Metallic Epoxy Floor Coating for Interior Rooms in Your Detroit, MI, Home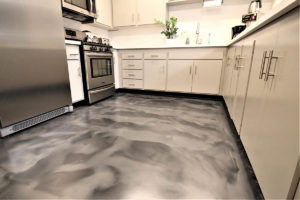 Are you looking to add a pop of color to your basement or laundry room floor? While there are many flooring options on the market, they all tend to crack, stain, fade, or hold onto moisture—which is not the best option for rooms below ground level. So what is the solution? A Liquid Art metallic epoxy floor coating.
GatorGuard's Liquid Art metallic epoxy floor coating is a highly durable flooring solution that will last you many years. If you tend to drop things, or if you have children who often scuff and ding your floor, then epoxy floor coating is a great choice for you!
A Strong Yet Beautiful Flooring Solution
The Liquid Art metallic epoxy floor coating by GatorGuard has a host of advantages it can offer your home. On top of being vibrant, high-gloss, and attractive, this flooring is also:
A breeze to keep clean
Very low maintenance
Resistant to stains, scuffs, and cracks
Impermeable
Installed with GatorShield—a water mitigation barrier that protects your floors against delamination and peeling due to hydrostatic pressure
If you want a floor that doesn't sacrifice function for beauty, then GatorGuard's Liquid Art metallic epoxy floor coating is right up your alley! This unique flooring is one-of-a-kind, as the swirling patterns in the design can never be recreated. When we install this floor coating in your home, you will have a piece of art specially made just for you.
Partner with GatorGuard Today
When you choose to partner with GatorGuard for your epoxy floor coating, we'll focus on your convenience. With our Move In, Move Out program, our trained professionals will remove all furniture and décor items before your floor coating installation, and then move them back once we are finished.
If you are still hesitant to take the next step and have GatorGuard's Liquid Art metallic epoxy floor coating installed in your home, feel free to give us a call. We will happily explain all the advantages this floor coating has to offer your Detroit, MI, home.