Basement Floor Coating from Trusted Professionals Serving Fort Wayne, IN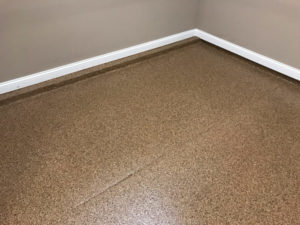 Is the basement in your Fort Wayne, Indiana, home blighted by scuffed, cracked, and stained concrete floors? Epoxy floor coating from GatorGuard is the best way to spruce up the space and prepare it for remodeling. Our basement floor coatings provide lifetime protection against everything form cracking and staining to chemical abrasion, so you won't have to spend your time on tedious maintenance and cleaning. Plus, they are available in a wide array of designs to suit your tastes.
At GatorGuard, we're committed to providing basement floor coating solutions to suit our customers' specific needs and budgets. Options include:
Ultra-durable full-broadcast coatings that are backed by a lifetime warranty and available in a huge selection of colors, styles, and patterns with a full layer of chips.
Eye-catching Liquid Art metallic floor coatings that will protect your concrete floors while turning your basement into a design masterpiece
Why Choose GatorGuard?
In addition to offering the best-performing basement floor coatings available, GatorGuard has established a seamless and easy process that ensures fantastic results. As concrete coating specialists, we utilize a multi-day process that allows each epoxy layer to fully cure and form a molecular bond to concrete. We also include a moisture mitigation barrier—GatorShield—to protect against the harmful effects of hydrostatic pressure.
If you'd like, we can even upgrade your installation process with our Move Out, Move In Program. We'll remove all contents from your basement and store them in our secure facility. Then, we'll put them back exactly as we found them upon completion of the project.
For more information about what makes GatorGuard the premier provider of basement floor coatings in Fort Wayne, IN, contact us today.