Floor Coating Contractors Providing Value-Driven Solutions in Fort Wayne, IN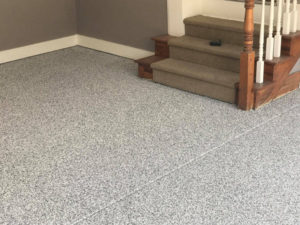 As a family-owned concrete floor coating company with a location in Fort Wayne, Indiana, GatorGuard has maintained a reputation for excellence in all that we do. Compared with other floor coating contractors in the area, we provide superior:
Concrete Floor Coating Products
Coating concrete floors is an opportunity to dramatically improve their durability and beauty while reducing the time required to maintain them. GatorGuard helps our customers make the most of it by providing only premium concrete floor coatings that lead the industry in terms of resistance to weathering, wear, impacts, abrasion, and more.
For example, our full broadcast concrete coating is the best-performing system in the industry and is backed by our exclusive lifetime warranty. Featuring multiple layers of industrial-grade epoxy and a full layer of PVA chips, it provides better protection and visual appeal than any other coating in the industry. What's more, we offer Liquid Art metallic systems to transform an interior space into a design centerpiece in your home. And, for exteriors, we provide concrete sealing that delivers lasting protection and beauty. Our concrete floor coatings are ideal for:
Garages
Laundry rooms
Basements
Patios
Driveways
Pool decks
And more
Customer Service
GatorGuard has established processes to make concrete floor coating a convenient and enjoyable experience. During your consultation, we'll thoroughly explain the benefits of all our floor coating systems and show you a virtual presentation that details your color and style options. By lending you our expertise, we'll ensure you make the right choice for your home and budget. Additionally, GatorGuard provides an optional exclusive service—the Move Out, Move In Program. With this service, we'll carefully remove all contents of a space before your project and put them back exactly where we found them once the coating process is complete.
Floor Coating Installations
For a floor coating to provide lasting durability, it needs to be properly installed. Rest assured, the full-time, manufacturer-trained floor coating contractors at GatorGuard adhere to best practices with every installation. We also include moisture mitigation as a standard part of the floor coating process, which protects flooring from peeling, delamination, and other harmful effects of hydrostatic pressure.
Contact GatorGuard today to learn more about what sets us apart from other concrete floor coating contractors in Fort Wayne, IN.