Garage Floor Coatings From Experienced Specialists Serving Fort Wayne, IN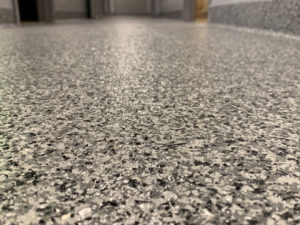 Concrete garage floors can quickly become marred by scuffs, cracks, chips, and stains. When this happens, rather than spend hours on cleaning and repairs, turn to Fort Wayne, Indiana's most trusted garage floor coating company—GatorGuard—for a solution that lasts a lifetime. We offer the industry's best-performing, full broadcast garage floor coatings that are:
Incredibly Durable
Our garage floor coatings are designed to withstand a lifetime of vehicle and foot traffic, impacts, chemical abrasion, and UV exposure. We even install a moisture mitigation barrier to prevent issues, such as delamination and peeling, due to hydrostatic pressure.
Safe & Easy to Maintain
Featuring a non-slip, reflective surface, our garage floor coatings make spaces safer by minimizing the risk of falls and providing better illumination. The nonporous surface is also easy to keep sparkling clean and will provide a lifetime of stain resistance.
Beautiful
Your epoxy garage floor coating will cover chips, cracks, and other imperfections while preventing them from returning. What's more, you'll have an enormous variety of colors, styles, and pattern options to choose from—including coatings that have natural stone effects—so you can create a look that's ideally suited to your home and tastes.
Guaranteed
GatorGuard's full broadcast garage floor coatings are backed by a limited lifetime warranty, so you can have peace of mind knowing you're making a sound investment in your home. At GatorGuard, we take pride in the work that our manufacturer-trained installers perform. If there's ever an issue, we'll handle it directly, so you don't have to deal with the manufacturer.
Contact Us
Are you ready to equip the garage floor in your Fort Wayne, IN, home with the ultimate epoxy coating? Contact GatorGuard today to learn more about the garage floor coating services we offer in your area.