Liquid Art Metallic Epoxy Floor Coating Installed by Manufacturer-Trained Professionals in Fort Wayne, IN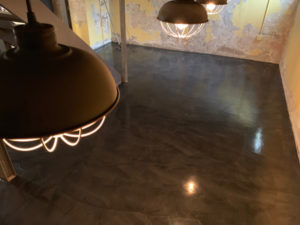 When you're deciding on a new floor for your Fort Wayne, Indiana, basement, there are many things to consider. Carpet is soft, but it holds onto moisture which can result in mold. Hardwood is classic, but water damage can cause warping. Concrete is common, but it tends to easily crack and stain. So what other choice is there? Allow us to introduce GatorGuard's Liquid Art metallic epoxy floor coating. If you are searching for a strong, water-resistant, and attractive flooring solution, then this is a great choice for you.
Pros of Liquid Art Metallic Epoxy Floor Coatings
Are you tired of having boring floors in your home? If you're looking to spice things up a bit, then look no further than our Liquid Art metallic epoxy floor coatings. This special floor coating has a smooth finish without texture, comes in a host of different vibrant and muted tones, and features unique swirling patterns.
Our Liquid Art metallic epoxy floor coating is also as durable as it is beautiful. It is:
Low maintenance
Stain resistant
Water resistant
Crack and scuff resistant
GatorGuard also installs a special water mitigation barrier named GatorShield to protect your floors against delamination and peeling caused by hydrostatic pressure.
What's more, this floor coating does not need to be exclusively used for your basement. It can be used in other interior rooms as well, such as laundry rooms, entertainment spaces, or recreation areas.
Let's Transform Your Space
If you're worried about the process of moving your belongings out of the room you want your Liquid Art metallic epoxy floor coating in, we've got you covered. With our Move In, Move Out program, our team will remove all furniture and décor from your space before your floor coating installation and move it all back in once we're done. It's that easy.
If you're ready to add a splash of color to your Fort Wayne, IN, home today, call GatorGuard. We look forward to hearing from you.