Garage Floor Coating Specialists Serving Indianapolis, IN, Homeowners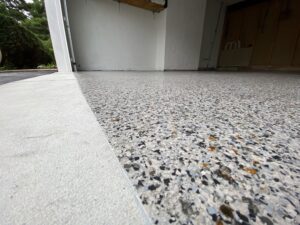 From daily car traffic to dropped tools, the garage floor in your home in Indianapolis, Indiana, has a lot to contend with. In fact, you might find that keeping the floor free from damage, scuffs, and stains is a constant battle. As garage floor coating experts, GatorGuard can make your life a little easier. We install top-of-the-line epoxy coating systems to equip your garage floor with the ultimate in protection.
Full Broadcast Garage Floor Coating Systems
If you're looking to coat your garage floor with the industry's most hardwearing epoxy coating system, our full broadcast solution is the perfect option. This industrial-grade garage floor coating is applied using molecular bonding to ensure each layer is ultra-durable and lasts a lifetime. It is also exceptionally easy to clean and maintain. It also comes with a full layer of PVA chips and can achieve a wide array of interesting patterns, including options that mimic natural stone and earth effects. Backed by our exclusive warranty, our full broadcast garage floor coating is sure to provide a lifetime of beauty and performance.
Installed by Experts
Your garage floor coating won't perform as intended if it isn't properly installed. While other garage floor coating companies provide one-day installations, this often results in poor mechanical adhesion to concrete. We, on the other hand, take the time to complete the project correctly. Plus, because we install GatorShield—a water mitigation barrier—with every floor coating project, your garage floor coating will be well protected against the damaging effects of hydrostatic pressure.
Beyond using proven techniques to install the industry's best-performing epoxy floor coatings, GatorGuard protects our customers' investments with industry-leading warranties. Best of all, we take full responsibility for any defects, so you'll never have to call the manufacturer about a warranty issue.
Why wait to protect and enhance the garage floor in your Indianapolis, IN, home? Contact GatorGuard today to learn more about our garage floor coating solutions.