Unique Liquid Art Metallic Epoxy Floor Coating for Homes in Indianapolis, IN, and Surrounding Areas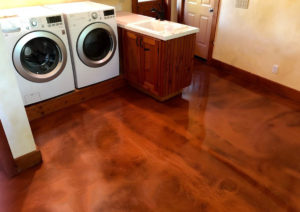 Are you looking to transform your Indianapolis, Indiana, basement, laundry room, or recreation area into a work of art? If so, installing Liquid Art metallic epoxy floor coating may be the perfect choice for you. And the best part? It's durable and an immediate attention grabber.
At GatorGuard, we offer floor coatings installed by manufacturer-certified professionals that will immediately elevate your space. No matter what your room's purpose is, our Liquid Art metallic epoxy floor coating is sure to be a conversation-starter.
Where Function Meets Beauty
With Liquid Art metallic epoxy floor coating, you don't have to sacrifice beauty for performance. These floor coatings have a swirling design and come in a host of jewel tones and muted tones while also being highly durable. At the same time, these floor coatings are:
Stain resistant
Water resistant
Crack and scuff resistant
Easy to clean
GatorGuard's Liquid Art metallic epoxy floor coating will liven up any space in your Indianapolis, IN, home. And to put the cherry on top, we use our GatorShield technology to prevent damage caused by hydrostatic pressure—a common issue with basements as they are below ground level.
Let's Get Started
At GatorGuard, we want to make sure you are fully satisfied with our products and services. That is why we offer free, at-home consultations, so we can get a better understanding of exactly what you want. To get started with your Liquid Art metallic epoxy floor coating project, give GatorGuard a call today. We look forward to hearing from you.