A Standout Among Floor Coating Contractors Serving Louisville, KY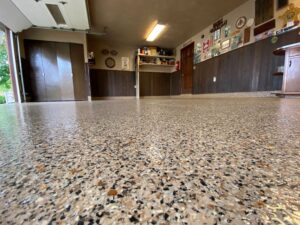 Your home in Louisville, Kentucky, is a source of pride. So, when the floors in key spaces, such as the garage, basement, or patio become damaged, dingy, scuffed, and stained, you do your best to address the problem—only to see it return soon after. What you need is a floor coating contractor that can provide a long-lasting solution to protect and beautify your concrete flooring for years to come without requiring frequent and tedious upkeep. You need GatorGuard.
Our Floor Coating Products
As Louisville's premier floor coating contractors, GatorGuard takes pride in offering a broad array of concrete coating solutions to suit virtually any homeowner's needs and budget.
Typically, we recommend our full broadcast floor coatings. Featuring industry-leading durability and resistance to abrasion, this concrete coating is perfect for garages and other areas that experience heavy traffic. However, we can also transform an interior room, such as a basement or laundry room, into a design masterpiece with eye-catching Liquid Art metallic floor coating systems. Plus, we offer exterior concrete sealing systems, which are ideal for beatifying spaces such as patios, driveways, and pool decks while providing long-lasting protection against the elements.
Our Floor Coating Installation Process
When you choose us as your concrete floor coating company, we'll begin your project with a comprehensive consultation. During this consultation, we'll thoroughly explain your options, enabling you to make the best decision. In addition to many different floor coating systems, we offer an incredible selection of styles and colors, turning your project into an opportunity to enhance the visual appeal of any space.
When it comes to installing your concrete floor coating, you can rest easy knowing your project is in the most capable of hands. Our manufacturer-trained installers properly apply each epoxy layer, allowing the appropriate time for curing to ensure maximum toughness. And, unlike other floor coating contractors, we always include a moisture mitigation barrier to prevent hydrostatic pressure for damaging the floor over time.
For more information about why GatorGuard is the clear choice among concrete floor coating contractors in Louisville, KY, contact us today. When you do, remember to ask about our Move Out, Move In Program—an exclusive service that makes your project as convenient as possible.