Liquid Art Metallic Epoxy Floor Coating Installations That Will Beautify Your Louisville, KY, Home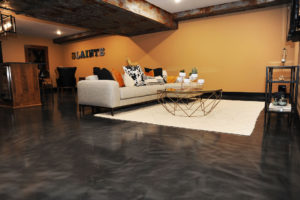 Are you at a standstill in your basement or laundry room remodel because you're unsure of what to do with your floors? There are many flooring options available on the market—hardwood, carpet, and concrete, just to name a few—but have you stopped to consider epoxy floor coating? Or more specifically, Liquid Art metallic epoxy floor coating?
GatorGuard offers Liquid Art metallic epoxy floor coating for homes in the Louisville, Kentucky, area as a unique alternative to standard epoxy floor coatings. If you are looking for a floor that is both a work of art and something to walk on, this is the perfect option for you!
A Floor Coating That is Both Durable and Beautiful
What makes GatorGuard's Liquid Art metallic epoxy floor coating stand out is its attractiveness and resilience. These floor coatings are durable, long-lasting, and built to resist stains, scratches, and chips. These qualities make it stand out above and beyond other floor offerings on the market.
Visually, what you can expect from our Liquid Art metallic epoxy floor coatings is:
Vibrant colors
Flowing patterns
One-of-a-kind design
High-gloss finish
On top of its physical allure, GatorGuard's Liquid Art metallic epoxy floor coating is low maintenance and scratch and stain resistant. We also install GatorShield, a water mitigation barrier, to protect your floors against delamination and peeling due to hydrostatic pressure.
Why Choose GatorGuard?
At GatorGuard, not only do we want to provide you with high-quality products, but we also want to make the process as convenient for you as possible. That's why we offer a Move In, Move Out program to help remove all furniture and accessories from the room we will be working in. After completing your epoxy floor coating project, we will then refurnish the room to make it look just as it was before—except with new floors!
If you are interested in learning more about installing Liquid Art metallic epoxy floor coating in your Louisville, KY, home, contact GatorGuard today.