Professional Concrete Patio Sealing for St. Louis, MO, Homeowners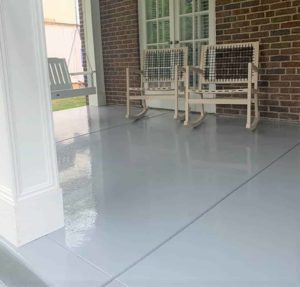 Concrete porches and patios can be difficult to maintain. Even with regular scrubbing, they can still age, crack, chip, scratch, or become discolored or stained. Fortunately, GatorGuard offers a solution to your porch and patio woes: our concrete patio sealing services. Our low-maintenance patio floor coating will protect your porch or patio from harsh weather conditions and the dramatic seasonal temperature changes in St. Louis, Missouri.
Benefits of Concrete Patio Floor Coating
Our premium Poly Enhance liquid concrete patio sealer is designed to protect and beautify your exterior concrete surfaces for years. It's exceptionally durable and can withstand all elements (including freeze-thaw cycles) without deteriorating. The coating offers a wet look, which enhances the color vibrancy of your porch or patio and makes it exceedingly easy to clean. You'll no longer have to worry about damage to your stained or untreated concrete, paver, or aggregate patio or porch.
Our concrete patio sealant is:
Eco-friendly
UV stable
Molecularly bonded
Resistant to damage from deicing chemicals and salt
All our floor and concrete coatings are installed with GatorShield, our proprietary moisture mitigation barrier. With this barrier, water vapor can pass through to prevent damage from freezing and thawing, but liquid water will not penetrate. This protects your concrete sealant from premature damage caused by hydrostatic pressure.
Get Started Today
To learn more about our concrete patio sealing services, contact GatorGuard today. We'd be delighted to schedule a consultation at your St. Louis home to answer questions and provide information about our warranties and financing options for qualified buyers.