Professional Garage Floor Coating Services for St. Louis, MO, Homeowners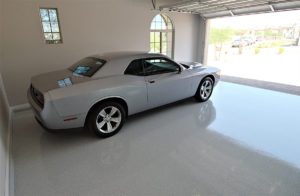 Garage floors tend to take a beating and can often end up cracked, stained, and worn. GatorGuard offers an easy solution for St. Louis, Missouri, homeowners: our epoxy garage floor coatings. Our floor coatings can help repair existing damage and are extremely durable and visually appealing—in short, they can completely transform your garage.
Our Full Broadcast Garage Floor Coating Solution
We offer both PVA and mica full broadcast garage floor coatings, which are backed by an unbeatable limited lifetime warranty. These coatings are available in a wide array of colors and patterns that can even mimic natural stone surfaces. The textured, non-slip finish can help improve safety while the reflective properties of the chips within the floor coating shine to provide better illumination in dark garage spaces.
While some garage floor coating companies may advertise their ultra-fast turnaround times, we never rush perfection. Instead, we take the necessary time to let each layer of our garage floor coating system cure completely, which allows for a more durable finish that will last a lifetime. We also install our proprietary GatorShield moisture mitigation barrier with every floor coating. This helps protect against the buildup of hydrostatic pressure, which can cause peeling and delamination.
Furthermore, we offer a Move Out, Move In service so you don't have to lift a finger—we'll take responsibility for moving everything out of your garage, and we'll store it securely at our on-site storage facility. Then, once your floor coating is completely cured, we'll replace everything exactly as it was.
Contact Us Today
To learn more about our garage floor coatings, contact GatorGuard today. We'll be happy to answer any questions and schedule a consultation at your St. Louis, MO, home.