Transform the Concrete Floors in Your St. Louis, MO, Home With Liquid Art Metallic Epoxy Floor Coating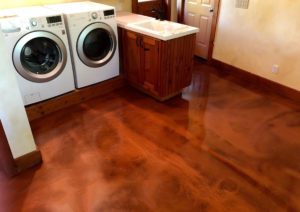 GatorGuard's Liquid Art metallic epoxy floor coating offers a beautiful and low-maintenance alternative to carpet and hardwood for finishing concrete floors. This type of epoxy floor coating is perfect for basements, laundry rooms, rec rooms, kitchens, and entryways in St. Louis, Missouri, homes. And, with GatorGuard's exclusive GatorShield moisture mitigation barrier, your floor coating won't suffer the negative effects of hydrostatic pressure like peeling and delamination—you'll be able to enjoy it for years to come.
A Durable, Show-Stopping Floor Option
Our Liquid Art metallic epoxy floor coating is available in a variety of vibrant colors, including neutrals like silver and charcoal as well as bold hues like sapphire and crimson. Our installation team will create one-of-a-kind swirls with the metallic color of your choice and top it with a smooth, high-gloss finish. The reflective surface as well as the metallic shimmer help provide better illumination in dark spaces by reflecting light.
This concrete floor coating is also highly durable. It's resistant to:
Cracking, scuffing, and staining
Damage from foot traffic and dropped objects
Chemical abrasion from ice-melting chemicals that may get tracked inside your home
Our Liquid Art floor coatings are also extremely easy to keep clean and they create an impermeable barrier to moisture which helps keep your space clean and dry.
We know that the thought of moving all your furniture and belongings out of the way for a floor coating installation can be daunting. That's why we offer our White Glove Service. You won't have to lift a finger—we'll handle removing, storing, and replacing all your belongings.
Learn More About Our Liquid Art Metallic Epoxy Floor Coating
Contact GatorGuard today to learn more about our Liquid Art metallic epoxy floor coating options. We'll be happy to provide a consultation at your St. Louis home to discuss your goals for your new floor.