Premier Garage Floor Coating Company Serving Beech Grove, IN, and Surrounding Communities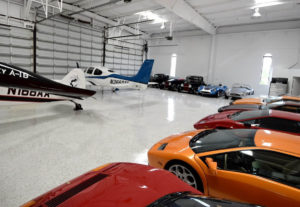 Are you elbow-deep in a garage remodel and unsure what to do with your concrete floors? They may be stained, cracked, and faded, but what is the solution? Luckily, GatorGuard makes it simple. With an epoxy garage floor coating from us, your home's garage floors will look beautiful and brand new.
GatorGuard has been serving communities in and around Beech Grove, Indiana, for half a decade, and we provide the best floor coating systems in the state. So what's the difference between concrete floors and our epoxy concrete garage floor coating?
Uncoated Concrete vs Concrete Garage Floor Coating
Concrete is one of the most common garage flooring materials on the market. It's strong, smooth, and easy to sweep, making it the first choice for many homeowners. But over time and with consistent use, your garage's uncoated concrete floors can begin to crumble and stain. Moisture can also cause problems down the line because untreated concrete is not waterproof.
On the other hand, with GatorGuard's epoxy garage floor coating, your concrete floors will be well protected and resistant to chips, cracks, stains, and fading. And thanks to our water mitigation barrier dubbed GatorShield, your concrete floors will also be protected against the effects of hydrostatic pressure. Our epoxy concrete garage floor coatings are also:
Non-slip
Reflective
Easy to clean
Low maintenance
Additionally, our epoxy coatings also come in a range of colors and styles, so you can choose the floor coating that perfectly suits your garage and home's style.
Let's Get Started
GatorGuard is committed to providing unmatched products and services for homeowners in and around Beech Grove, IN. Our team even offers a Move In, Move Out service where we can remove all contents from your garage before your floor coating installation and move it all back in once we are finished. If you are interested in learning more about our garage floor coating services, contact us today.