High-Performance Basement Floor Coatings Expertly Installed in Birmingham, MI, Homes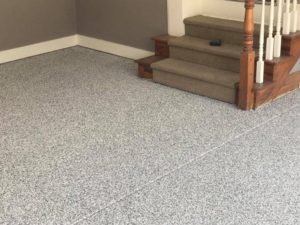 It can be tough to know what to do with a concrete basement floor. Do you risk installing easily damaged carpet or hardwood in such a damp, high-traffic area? Or leave it bare and deal with cracks and stains? Fortunately, there's a better solution: a basement floor coating from GatorGuard. We are pleased to offer beautiful and durable floor coating options to Birmingham, Michigan, homeowners.
Our Basement Floor Coating Options
Our epoxy basement floor coatings can cover imperfections on your concrete floor and dramatically improve the look of the whole space. They are low maintenance, ultra-durable, and can even help boost the safety of your basement. The coatings are resistant to damage from foot traffic, dropped objects, and even salt and ice-melting chemicals that might get tracked into your basement. We offer two main types of basement floor coating options to meet a variety of aesthetic and functional preferences:
Full-Broadcast Epoxy Floor Coating
Our full-broadcast floor coatings are our most durable. In fact, they are backed by our lifetime product and installation warranty. This premium coating option is available in a wide variety of colors and styles and features a non-slip texture.
Liquid Art Metallic Epoxy Floor Coating
With this type of coating, our manufacturer-trained installation team will create a work of art on your basement floor. You can choose from neutral colors or bold statement hues, which will swirl hypnotically under a high-gloss finish that helps reflect light and illuminate dark corners of your basement.
Why Choose GatorGuard?
At GatorGuard, we install all basement floor coatings with our GatorShield technology. This moisture mitigation barrier prevents your floor from peeling or delaminating as a result of hydrostatic pressure. We also offer our White Glove Service so you don't have to lift a finger during the process. We'll pack up, securely store, and then replace all your belongings.
To learn more about our basement floor coating options for Birmingham homeowners, contact GatorGuard today.