Professional Garage Floor Coating Systems for Birmingham, MI, Homeowners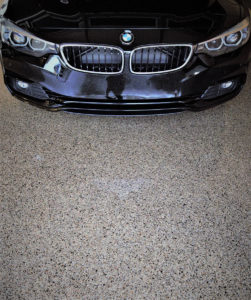 When you look at your garage, do you see shiny and durable concrete floors, or floors full of dings, stains, and cracks? Odds are, you see the latter. Luckily, your worn-out garage floors can be transformed with a garage floor coating from GatorGuard.
Not all coating systems are made the same. If you're looking for a professional garage floor coating that not only protects your concrete floors but also beautifies them, then turn to GatorGuard. Our team offers full-broadcast epoxy floor coatings for homeowners throughout Birmingham, Michigan, and surrounding communities.
Advantages of Our Concrete Garage Floor Coating
Your garage floors are under constant pressure. From parked cars to storage boxes and bins, there is almost no limit to what you might store in your garage. That's why it's important to make sure you have a garage floor coating that maintains the integrity of your concrete and makes it stronger.
The full-broadcast epoxy floor coating offered by GatorGuard is:
Durable
Low maintenance
Easy to clean
Scratch, stain, and crack resistant
Non-slip
Reflective
Installed with GatorShield—a water mitigation barrier that protects your floor against the effects of hydrostatic pressure
Additionally, our garage floor coating comes in a wide variety of colors and styles, so you can pick the perfect design for your home. And for your peace of mind, we include a limited lifetime warranty on all our full-broadcast epoxy floor coatings.
The Garage Floor Coating Company with Solutions
Are you ready to take your garage floor to the next level? The team at GatorGuard is highly trained and prepared to install a top-quality garage floor coating in your Birmingham, MI home. For more information, call us today. We look forward to hearing from you.