Basement Floor Coatings that Enhance Your Brownsburg, IN, Home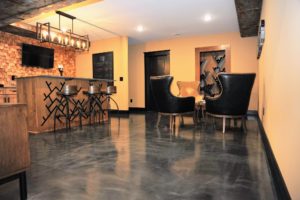 Do you find the basement in your Brownsburg, Indiana, home is often overlooked? It's a room located below ground level, making it an extra space—and sometimes a burden—to maintain. Fortunately, at GatorGuard, we offer low-maintenance, high-quality epoxy basement floor coatings to make your life a little easier.
If you are looking to have a more durable and attractive floor in your basement, our epoxy floor coatings are a fantastic choice. They come in a variety of different colors, styles, and designs, so you will be sure to find the perfect fit for your home.
Our Two Epoxy Floor Coating Options
GatorGuard offers two different types of epoxy basement floor coating options: full-broadcast and Liquid Art metallic. Both are advantageous because they are:
Easy to clean
Highly durable
Resistant to cracking and scuffing
Resistant to staining
Resistant to moisture
Our epoxy basement floor coatings also include GatorShield—a water mitigation barrier that ensures your floors are well-protected against hydrostatic pressure.
Full-Broadcast
Our full-broadcast basement floor coating is a premium, long-lasting coating great for high-traffic areas. It's also resistant to salt and ice-melting chemicals, so if those are concerns for your home, this would be a fantastic option—not to mention, it is backed by a lifetime warranty.
Liquid Art
Our Liquid Art metallic basement floor coating has many of the same qualities, and it's a showstopper. Featuring swirling designs, vibrant colors, and a glossy finish, this unique flooring is a great choice if you want your basement's floor to be the center of attention.
Why Choose GatorGuard?
When you choose to partner with GatorGuard, you can rest assured you will receive services from thoroughly trained manufacturer-certified professionals. To learn more about our full-broadcast or Liquid Art metallic basement floor coatings, contact us today.