Durable Basement Floor Coating for Your Carmel, IN, Home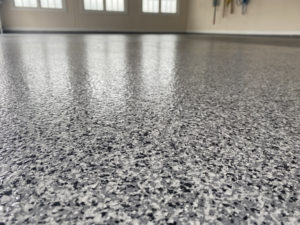 Are you thinking about converting your basement into a more livable space? When you start your basement refinishing or remodeling project, one key decision you will make is how to redo your floors—a task that is much easier said than done. Fortunately, with GatorGuard, the process can be made easy with epoxy basement floor coating.
GatorGuard is the premier provider of basement floor coating in the Carmel, Indiana, area. We want to make sure you get the best epoxy floor coating for your basement, which is why we offer two excellent options.
Types of Epoxy Basement Floor Coatings
Epoxy floor coating is a popular flooring choice for basements thanks to its durability and resistance to staining and cracking. It is also low-maintenance, non-slip, and aesthetically pleasing. To better protect your investment, we also install GatorShield—a moisture mitigation barrier—to prevent damage caused by hydrostatic pressure.
At GatorGuard, our two options for your basement floor coating are:
Full-Broadcast
With full-broadcast basement floor coating, you will have a long-lasting, premium floor coating that is a great choice for high-traffic areas. This strong floor coating is stain and fade resistant and will maintain its longevity even if exposed to salt and ice-melting chemicals.
Not only does our full-broadcast basement floor coating perform well—it also looks great! You can choose from a large selection of colors, styles, and designs to highlight your basement in whichever way you see fit. And to further sweeten the deal, this floor coating is backed by a lifetime warranty.
Liquid Art
Our Liquid Art metallic basement floor coating has a wow factor that can't be beat. If you want to have a floor that will endure even the toughest circumstances yet look beautiful while doing so, then this is a great option for you.
GatorGuard's Liquid Art metallic floor coating comes in a host of different colors, ranging from crimson and sapphire to grey and charcoal. This flooring has a smooth finish without texture and a flowing pattern that will certainly be a showstopper. If you are looking for a statement piece in your basement, this is it.
Learn More
GatorGuard aims to provide top-notch services to homeowners in Carmel, IN, and surrounding areas. If you are interested in learning more about our basement floor coatings, please contact GatorGuard today.