Expertly Installed Basement Floor Coatings for Dearborn, MI, Homes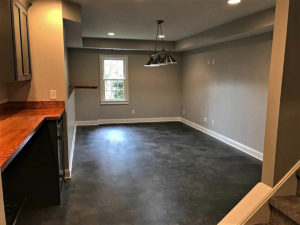 Have you recently moved into a new home with an unfinished basement? Or perhaps you've finally decided to undertake your current home's basement remodel? If so, one of your biggest questions may be what to do with the less-than-attractive cracked and dirty concrete floors in your Dearborn, Michigan, home. The answer is simple: epoxy basement floor coating.
At GatorGuard, we offer high-quality and durable basement floor coatings that will completely transform the look of your basement. While concrete flooring easily shows staining as well as general wear and tear, an epoxy coating acts as a sealant and protects your flooring against regular use and damage.
Why Choose Epoxy Floor Coating?
When beginning a basement refinishing or remodeling project, you may consider a few different types of flooring options. Here are a few reasons why epoxy basement floor coating is the best choice.
Its Durability
Many people turn their basement into a high-traffic area by converting it into an exercise room or an entertainment space. Regardless of how you choose to utilize your basement after its remodel, our epoxy basement floor coating will maintain your floor's integrity, no matter how often it is used. This durable coating is resistant to dings and scratches and can withstand heavy loads.
Its Water-Resistance
Because basements are partially or entirely below ground level, they have a reputation for trapping moisture. This can cause problems with carpeting and wood floors, as moisture can build up and result in mold. With an epoxy basement floor coating from GatorGuard, there is no need to worry about problems caused by humidity or hydrostatic pressure. We install our GatorShield moisture mitigation barrier to make your space water-resistant and safe.
Its Aesthetic
Epoxy floor coating is a fantastic option if you want to have attractive flooring in your basement. GatorGuard offers two choices:
No matter which option you choose, we offer a variety of different colors, styles, and patterns, so you'll be sure to find something just right for your basement.
Contact Us Today
At GatorGuard, we aim to protect your investment and give you the best value for your money. We offer basement floor coating options backed by a lifetime warranty, and a Move In, Move Out service for your convenience. For more information about what GatorGuard can offer your Dearborn, MI, home, please contact us today.