Expertly Installed Garage Floor Coatings for Delhi, OH, Homes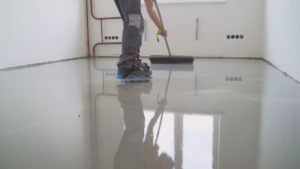 Is your garage floor looking worse for wear after years of use? It's not uncommon for concrete garage floors to crack and break down after repetitively parking vehicles on them. But with garage floor coatings installed by GatorGuard, crumbling garage floors will be a thing of the past!
GatorGuard's epoxy floor coatings are industry-leading coating systems that will increase the longevity of your garage's concrete floors. If you're tired of seeing wear and tear on your floors and being unable to stop it from happening in your Delhi, Ohio, home, then our garage floor coating is an excellent option for you.
Our Full-Broadcast Concrete Garage Floor Coating Systems
Are you looking for a garage floor that is durable, long lasting, and low maintenance? If so, our full-broadcast epoxy floor coating is the perfect solution. This coating system is resistant to fading, staining, cracking, scuffing, and moisture—and with our water mitigation barrier, GatorShield, your floors will also be protected against the negative impact of hydrostatic pressure.
Our garage floor coating systems are also non-slip, reflective, easy to care for, and come in a variety of different styles and hues. And to put the cherry on top, our full-broadcast epoxy floor coatings are covered by a limited lifetime warranty so you can be confident in your investment.
Partnering with GatorGuard
When you partner with GatorGuard for your garage floor coating installation, our trained team of experts will be with you every step of the way. And from inception to completion, our team will ensure your happiness is the top priority. To get started, call GatorGuard today. Make sure to ask about our Move Out, Move In program—a service where we can move everything out of your Delhi, OH, home's garage before your floor coating installation and move it all back in once it is complete.