Basement Floor Coating Installed by Professionals for Fishers, IN, Homes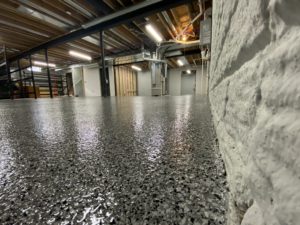 When choosing new flooring for the basement of your Fishers, Indiana, home, you may consider a variety of different flooring options. Concrete, carpet, and hardwood are all choices to consider—but what about epoxy basement floor coating?
At GatorGuard, we offer two types of epoxy floor coating: full-broadcast and Liquid Art metallic. Both are great choices if you're looking for beautiful, long-lasting, strong, and easy-to-clean flooring for your basement. But what really makes epoxy basement floor coating special?
Why Choose Epoxy Basement Floor Coating?
Epoxy floor coating is a great choice for basement flooring because of its durability and resistance to staining. It is also non-slip, low-maintenance, and resistant to damage that can be cause by hydrostatic pressure thanks to our GatorShield technology.
There are many flooring options on the market with disadvantages that could affect the longevity of your basement's floor. Here are a few alternate choices and how they could be a poor investment:
Concrete: Concrete is prone to cracking, chipping, and discoloration. If your basement will have heavy foot traffic, or if you have children, then it won't take long for a concrete floor to look unkept and dirty.
Carpet: Carpet holds moisture, which is difficult to get away from in basements. Basements tend to be either partially or entirely below ground, which makes them a breeding ground for humidity and mold—both of which carpet will absorb and retain.
Hardwood: Similar to carpet, wood flooring can be negatively impacted by moisture. While hardwood is beautiful to look at, it will quickly warp and curl from water damage.
Next Steps
If you are interested in learning more about our offerings, or if you have questions about the lifetime warranty we offer for many of our services, don't hesitate to reach out to GatorGuard. Our team can't wait to help you transform your Fishers, IN, home with our high-quality epoxy basement floor coatings.