Durable & Attractive Garage Floor Coatings for Homes in Fishers, IN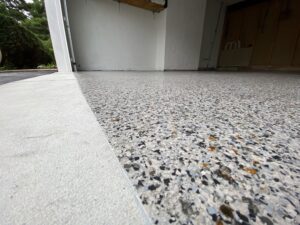 If your garage is like those of most other homes in Fishers, Indiana, it's likely far from your most attractive room. After all, even the tidiest garages tend to feature stark concrete flooring that quickly accumulates stains, cracks, and chips. A garage floor coating from GatorGuard can change that. We proudly install full broadcast epoxy coatings that are designed to beautify spaces long into the future. You'll enjoy:
An enormous variety of color, style, and pattern options, including coatings that have natural stone effects
A beautiful, glossy surface that helps brighten up your garage space
A finish that resists everything from chips and wear due to vehicles to fading due to UV exposure and deterioration due to exposure to salt and ice-melting chemicals
A Lifetime of Protection
Our full broadcast garage floor coatings do much more than enhance visual appeal. They also keep your floors well defended against cracking, chipping, and abrasion. No longer will you have to spend your valuable time on repairs and maintenance because our coatings are designed to last a lifetime with minimal care required.
First-Class Service
As garage floor coating specialists, GatorGuard's team completes every installation to the highest standards. Rather than provide one-day installations that don't allow epoxy layers the time to mechanically bond to concrete, we utilize a multi-day process to ensure unrivaled quality and durability. The addition of GatorShield—a moisture mitigation barrier—provides additional protection against hydrostatic pressure.
Reach out to the experts at GatorGuard today to learn more about the best-in-class garage floor coatings we offer to homeowners in Fishers, IN. When you do, remember to ask about our optional Move Out, Move In Program. With this service, we will remove all contents from your garage and put them back exactly where we found them when your project is complete.