Epoxy Concrete Floor Coating Contractor Serving Fort Mitchell, OH, Homeowners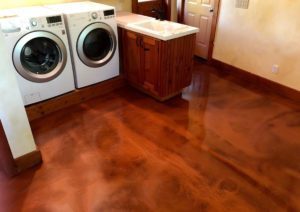 Are your concrete floors and exterior surfaces looking worse for wear? If so, GatorGuard can help. As a trusted floor coating contractor serving the Fort Mitchell, Ohio, area, we offer ultra-durable full broadcast floor coatings, stunning Liquid Art metallic floor coatings, and clear concrete sealer to meet all your needs and aesthetic preferences.
Benefits of Our Epoxy Floor Coatings
All our floor coatings are highly durable, easy to clean, and resistant to:
Chemical abrasion from salt and ice-melting chemicals
Damage from dropped objects
Wear from foot and vehicle traffic (except for our Liquid Art coatings, which shouldn't be driven on)
Damage from hydrostatic pressure such as peeling and delamination, thanks to our GatorShield moisture mitigation barrier
Our concrete sealant is designed for outdoor use on surfaces like driveways, patios, and pool decks. Our Liquid Art coating is perfect for basements, while our full broadcast floor coatings are ideal for garages and other high-traffic spaces.
Experience the GatorGuard Difference
As a full-service floor coating contractor, we offer a White Glove Service so you don't have to lift a finger. Our team will take care of moving all your furniture and belongings out of the area we'll be working on, storing everything securely at our on-site storage facility, and then replacing everything where it belongs once your floor coating installation is complete.
While some other concrete floor coating companies tout their super-fast installation times, we take the time to let each layer cure completely. As a result, our installations often take around three days, but this allows for a more flawless installation and a floor coating that can last a lifetime.
Contact GatorGuard today to learn more about our floor coating contractor services and to set up a consultation at your Fort Mitchell, OH, home.