A Garage Floor Coating Can Transform the Appearance of Your Fort Thomas, OH, Home's Garage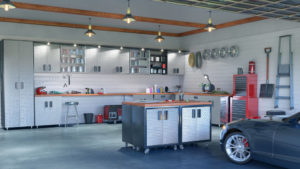 Are you tired of the stains on your garage's concrete floors? Maybe you've even come across some unsightly cracks and chips. While concrete is a common flooring material for residential garages, that doesn't mean they're built to last forever. In fact, frequent vehicle traffic can quickly deteriorate the quality of your concrete floors. But with a garage floor coating completed by the experts at GatorGuard, you can say "goodbye" to your old, worn-down concrete floors, and say "hello" to new and beautiful coated concrete floors. We help homeowners in Fort Thomas, Ohio, and surrounding communities with their floor coating projects, and we'd love to help you next.
Concrete Garage Floor Coatings Installed With GatorShield
At GatorGuard, we only use the best materials in the industry for our garage floor coating projects. Our full-broadcast epoxy floor coating beautifies concrete floors and keeps them strong enough to handle foot and vehicle traffic for many years.
Our premium garage floor coatings are:
Low maintenance
Easy to clean
Non-slip
Reflective
Crack, scratch, and stain resistant
And to further sweeten the deal, we also install a moisture mitigation barrier named GatorShield along with all our epoxy floor coatings. This will help keep your concrete floors safe from the effects of hydrostatic pressure.
Why Choose Us?
GatorGuard is a family-owned and -operated business that serves homeowners throughout Fort Thomas, OH, by installing top-of-the-line epoxy floor coatings and sealing. If you're interested in scheduling a garage floor coating service to enhance your concrete floors, don't hesitate to contact us today. We look forward to working with you.