Have a Garage Floor Coating Installed at Your Greenwood, IN, Home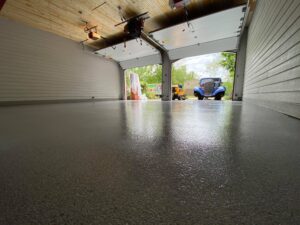 Often, we don't pay much attention to the concrete floors in our garage. After all, many residential garages are often filled with parked vehicles and storage bins, making it difficult to see the floor. But the next time you walk into your garage, take note of the condition of your concrete. Do you see cracks, chips, or stains? If so, you may want to consider a garage floor coating. GatorGuard is a floor coating contractor serving homeowners throughout Greenwood, Indiana, and we'd love to help you upgrade your concrete garage floors. We are a family-owned and -operated business with manufacturer-trained full-time employees who are knowledgeable in their craft.
A Bit About Our Full-Broadcast Epoxy Garage Floor Coating
At GatorGuard, we offer a high-quality and durable floor coating for garages: our full-broadcast epoxy floor coating. This coating does an excellent job of beautifying concrete floors and keeping them safe from heavy wear and tear. Our full-broadcast coating is:
Abrasion-resistant
Low maintenance
Non-slip
Reflective
Stain-, crack-, and chip-resistant
UV stable
What's more, this concrete garage floor coating is available in a wide selection of colors, styles, and patterns, and we install it with GatorShield. This moisture mitigation barrier will protect your floors against the negative effects of hydrostatic pressure.
Learn More About Our Products & Services
When you choose to have a garage floor coating installed at your Greenwood, IN, home, you should partner with experienced professionals to get the job done right. Contact GatorGuard today to learn more about why we're the best garage floor coating company for the job.