The Floor Coating Contractor with Solutions for Your Grosse Pointe, MI, Home's Concrete Floors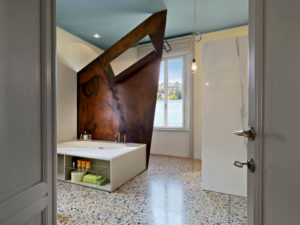 Have you noticed the concrete floors in your Grosse Pointe, Michigan, home have started to show signs of wear? Concrete floors are easily stained, cracked, and chipped—but these problems can be easily avoided with a floor coating from the premier floor coating contractor, GatorGuard.
GatorGuard provides premium indoor and outdoor floor coatings for homeowners throughout the state that will protect your concrete floors from cracking, staining, fading, and more. Our technicians are full-time manufacturer-trained installers—not subcontractors—so you can rest assured you are receiving industry-leading products installed by experts you can trust.
Our Floor Coating & Sealing Options
You deserve to partner with a floor coating contractor that offers you various flooring options to protect your concrete floors. At GatorGuard, we offer a variety of services to help you transform the floors inside and outside your home, such as:
Full-broadcast epoxy floor coatings – This coating is ideal for interior spaces, such as garages, basements, and other spaces that experience heavy wear and tear. It also comes with a limited lifetime warranty.
Liquid Art metallic epoxy floor coatings – Our Liquid Art coating is extremely unique. It will change your floors into a work of art, with its colorful, high-gloss finish. This is a great choice for laundry rooms, basements, and entertainment spaces.
Concrete sealing – If the concrete floors outside your home need protection, then our concrete sealing is the perfect choice. This is best installed on patios, porches, driveways, pool decks, and more.
All our floor coating options come in a wide selection of colors, so you can choose a design that best suits your space. What's more, our coatings are always installed with GatorShield—a moisture mitigation barrier that protects your concrete floors against the negative effects of hydrostatic pressure.
Your Neighborhood Concrete Floor Coating Company
If you're looking to protect your concrete floors with some of the best floor coatings on the market, then GatorGuard is the floor coating contractor to turn to. For more information, contact us today.