Expertly Installed Basement Floor Coatings for Homeowners in Huntington Woods, MI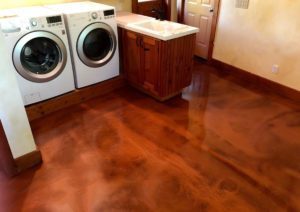 Basement floors can be tricky—bare concrete can feel cold and unwelcoming, carpet can quickly get damp and musty, and wood can warp and show damage easily. Fortunately, there's another option: GatorGuard's epoxy basement floor coatings. Our floor coatings can dramatically improve the look of your basement by covering imperfections, creating a uniform surface, and making the space feel brighter. We proudly offer our basement floor coatings to homeowners in Huntington Woods, Michigan, and throughout the Midwest.
Why Choose GatorGuard?
At GatorGuard, we don't believe in cutting corners. That's why every floor coating we install incorporates our GatorShield moisture mitigation barrier, which prevents premature damage and delamination from hydrostatic pressure.
Additionally, we never rush perfection. While some other floor coating contractors advertise one-day installations, ours take about three days. That's because we allow each layer of your floor coating to cure completely before moving on to the next one, which has a significant positive impact on the longevity and durability of your new floor.
We offer two different types of basement floor coatings:
Full broadcast epoxy floor coating – As our most durable coating, this option is backed by a lifetime warranty that protects against peeling and delamination. It's available in myriad colors and styles and features a non-slip texture for added safety.
Liquid Art metallic epoxy floor coating – This option will transform your basement floor into a striking masterpiece. Choose a bold or neutral metallic tone for the swirling pattern, which will be finished with a smooth, high-gloss surface.
Don't want to deal with the hassle of moving everything out of and back into your basement? Check out GatorGuard's White Glove Service—you won't have to lift a finger.
Learn More About Our Basement Floor Coating Options
Contact GatorGuard today to learn more about our basement floor coating options, best-in-class warranties, and convenient financing options available to qualified Huntington Woods homeowners.