Professional Floor Coating Contractor Serving Maples, IN, Homeowners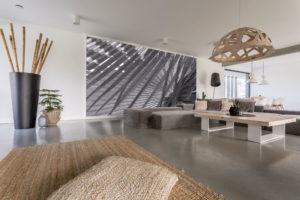 When you look at the garage floor in your Maples, Indiana, home, do you see cracked and stained concrete? Or perhaps the concrete floors of your porch or patio are the problem. While concrete is a very common flooring choice for indoor and outdoor spaces, it does not wear well. Luckily, GatorGuard is the floor coating contractor with a solution.
We install three different premium concrete floor coatings for the interior and exterior areas of your home: full-broadcast epoxy floor coating, Liquid Art metallic epoxy floor coating, and concrete sealing. All three options are extremely durable and will protect your floors against scratches, cracks, and stains.
Full-Broadcast Epoxy Floor Coating
If you want to protect the concrete floors in a high-traffic area of your home, then our full-broadcast coating is the best choice for you. It is ideal for garages and basements but can also be installed in other interior spaces in your home with concrete floors. Our full-broadcast coating is non-slip, low maintenance, and highly reflective.
Liquid Art Metallic Epoxy Floor Coating
If you're looking for a floor coating that doubles as a work of art, then look no further than our Liquid Art metallic coating. This is a great choice for basements, laundry rooms, and indoor entertainment spaces. Our Liquid Art metallic coating has eye-catching swirling patterns and comes in a variety of vivid color options. Because of its boldness, it is sure to transform whichever room we install it in.
Concrete Sealing
Are you looking to fix up the concrete floors outside your home instead? If so, we are the floor coating contractor with concrete sealing that can help. This sealer is the perfect solution to protect your outdoor concrete floors from the elements. It is a fantastic choice for:
Patios
Porches
Walkways
Driveways
Pool decks
And more!
Your Professional Concrete Floor Coating Contractor
All our floor coating and sealing options are installed with GatorShield—a moisture mitigation barrier that will protect your floors from the harsh effects of hydrostatic pressure. No matter whether you want to upgrade the concrete floors inside or outside your Maples, IN, home, we are the floor coating contractor who will get the job done. For more information, contact GatorGuard today.