Experts Installing Top-Notch Garage Floor Coatings in Homes Throughout Washington, KY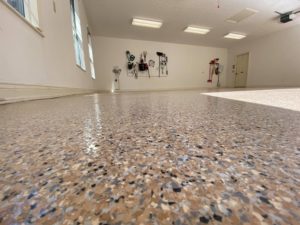 It's easy to walk into your garage and not give a second thought to your concrete floors. When was the last time you really paid attention to their condition? Between vehicle traffic and storage bins, these surfaces receive a lot of heavy use and are sure to be showing signs of wear. That's why so many homeowners in Washington, Kentucky, turn to GatorGuard for a garage floor coating service. Our technicians are fully trained and ready to provide you with a floor coating that will keep your garage's concrete floors beautiful for years to come.
Our Concrete Garage Floor Coatings
At GatorGuard, we complete garage floor coating projects using our high-quality, full-broadcast epoxy floor coating, but this coating can also be used in other areas of your home, including basements, laundry rooms, and more. Our epoxy floor coating:
Resists scratches, stains, cracks, and chips
Keeps you safe by being non-slip
Is low maintenance and easy to clean
Offers a reflective finish
Installed with GatorShield—a moisture mitigation barrier that keeps your floors protected against the harmful effects of hydrostatic pressure
What's more, our epoxy coating comes in a wide range of colors and styles, so you can choose the best option for your garage.
Contact Us
GatorGuard is one of the top garage floor coating companies serving the Washington, KY, area. We offer durable and beautiful garage floor coatings that will completely transform the appearance and functionality of the plain concrete floors in your garage. Plus, our floor coatings are covered by a limited lifetime warranty, so you can rest assured your investment is well protected. Contact us today to learn more about our products and services.